Biographies
Sam Hudson
Board Secretary
Sam Hudson currently works at the Clean Annapolis River Project (CARP) leading the Aquatic Species at Risk project which looks to address the threats of invasive species to at risk Atlantic salmon and Atlantic whitefish populations in Nova Scotia. Sam has had the opportunity to lead a variety of different projects and programs while working at CARP that focus on climate change, stormwater management, aquatic invasive species, water conservation and water quality monitoring. She has worked at CARP since 2016, taking time in between to work at Kejimkujik National Park (NP), with her position(s) mostly focusing on species at risk and ecological monitoring in the Park, along with assisting in coordinating the Parks first ever BioBlitz event(s)! In addition to this, Sam has also worked on side contracts to monitor the at risk Chimney Swift in specific locations throughout the province. When Sam is not working, she can be found spending most of her spare time volunteering for local eNGO's and federal departments (Canadian Sea Turtle Network, Birds Canada, Parks Canada, Mersey Tobeatic Research Institute (MTRI) and indigenous groups)), hiking with her husky, knitting and fermenting anything  she can get her hands on. Sam was drawn to MTRI through an internship opportunity to assess habitat, conduct visual surveys and live trapping efforts for Blanding's Turtles and other species at risk in wetlands near proposed harvest blocks just outside of the Kejimkujik NP boundary. Since then, she has been actively volunteering on a number of different projects at MTRI – now being on the Board for the organization (2018), sitting on committees and serving as Secretary.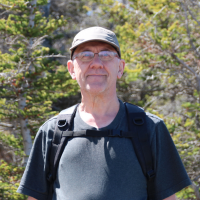 Keith Egger
Board Member
Keith is a Professor Emeritus at the University of Northern British Columbia in Prince George, BC who recently retired to Bridgetown, NS. During his research career he studied fungi and microbial ecology, especially how microbial communities respond to disturbance and how fungal associations with plant roots (mycorrhizas) respond to climate change. Since moving to NS he has been pursuing opportunities for mycological studies in Kejimkujik National Park and the Southwest Nova Biosphere Reserve. He brings a perspective on fungi and belowground ecology to the MTRI board and serves on the Education and Outreach Committee. When he is not collecting and studying mushrooms, he engages in his astrophotography hobby, taking pictures of distant nebulas and galaxies.
Steve Mockford
Board Member
Steve is retired from the Biology Department at Acadia University. While retired he maintains his interest in the recovery and management of species at risk; particularly the role of citizen science in recovering these species. In addition to his role on the Board if Directors of MTRI, Steve is the a past chair of the Canadian Amphibian and Reptile Conservation Network (CARCNET), a past president of the Canadian Herpetological Society (CHS), and a current member of the Nova Scotia Amphibian and Reptile Recovery Team. Steve and his students have benefitted from the support offered by MTRI in the past and his is happy to be able to contribute to the continued growth and success of the organization.
Lauren Lawrence
Board Member
Lauren spent the majority of her childhood outside - Playing in the woods, rollerblading the roads to save caterpillars trying to cross, and "catching and releasing" frogs and snakes. Lauren went on to complete a BSc in Biology at Acadia University and the Wildlife Conservation Technology program at Holland College. In 2018, Lauren began working with The Confederacy of Mainland Mi'kmaq as part of their Mi'kmaw Conservation Group Program (MCG). She currently works as a project coordinator for their Coastal Restoration Project which aims to restore salt marsh habitat on the Bay of Fundy. Outside of work, Lauren can still be found outside enjoying nature - Camping with friends, gardening, volunteering with other organizations, and hiking with her dog, Mersey.