Why are we studying loons?
The Common Loon is widely used as an indicator of the health of lake ecosystems because of its high trophic position in aquatic food chains. The number of chicks produced each year, the productivity, depends on the number of fish in a lake for the adults and chicks to feed on.  Productivity of the Common Loon is adversely affected by such things as acid rain, structural and recreational development of lake shorelines, disturbance by boaters, water-level fluctuations, predators, and mercury pollution. The Canadian Wildlife Service has monitored Common Loon productivity in Kejimkujik National Park from 1988 to 1997. These reports found that low productivity and high blood mercury levels in the prey fish of the Common Loon were correlated. The Canadian Wildlife Service began their research again in 2006 and 2007. In 2008, the Mersey Tobeatic Research Institute began using the Common Loon and its productivity to monitor 35 lakes within Kejimkujik and the surrounding region. Each year a team of researchers canoe 35 lakes, often with volunteers, to determine productivity. In addition to a research team, MTRI invites volunteers to participate in the LoonWatch program by monitoring the Common Loon productivity from May through August on a lake.  The data from researchers and volunteers is combined to provide a clearer picture of Common Loon productivity in Kejimkujik and surrounding regions.
As in 2013, the focus again in 2014 was on adult survivorship through re-sighting of loons that were banded by the Canadian Wildlife Service and the Biodiversity Research Institute.
If you have a lake and you would like to monitor for loons, consider becoming a LoonWatcher. To become a LoonWatcher, contact the Mersey Tobeatic Research Institute and ask for a LoonWatch package for the lake you would like to monitor. Your LoonWatch package will provide you with a data sheet to fill in for the summer months along with a map of the lake you wish to monitor.
Check out the Common Loon Project mini-documentary that was created by MTRI Volunteer Camille Tedesco on the MTRI Youtube channel.  This short video provides an explanation of the ongoing research work for this project.
  
Project objectives
To observe banded Common loons to enable researchers to identify information about individuals such as territory, mate fidelity, site fidelity and productivity.

To develop and improve methodology for future study of adult survivorship through band re-sighting.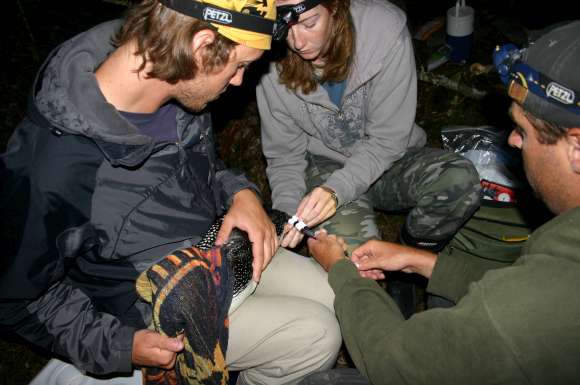 Methods
A total of 58 Common loons have been banded by Environment Canada. seventeen loons were banded in the first banding period between the years of 1995 - 1997, and an additional 41 loons were banded between the years of 2009 - 2012. Loons were captured at night and banded with a unique combination of coloured leg bands in addition to a numbered Canadian Wildlife Service metal band. Loons were measured, sampled and then released.

Between April 28 - August 12 2014, researchers from MTRI surveyed 26 lakes in and around Kejimkujik.  Twenty three of those lakes had previously banded loons.

Loons were observed from lake shorelines and by canoe, using spotting scopes with tripods and binoculars, with favorable weather conditions playing a key role.

Researchers entered loon observations on a Global Positioning System (GPS) and recorded lake name, territorial divide if established, date, presence or absence of bands, colours and position of bands, and year banded.  On a separate data sheet, researchers recorded lake site information, weather conditions, UTM location and time of observation, behavioral information, nest site information and individual characteristics, such as age (adult or chick).

2014 Results
Researchers observed banded loons on 15 of the 26 lakes surveyed.  Twenty individuals were observed with all four bands, each band having a unique color combination.  Five individuals were observed with only partial bands.

There was reasonably high site fidelity again in 2014.  All but three loons were observed on lakes where they were originally banded.  These three loons are all female, and all banded in 2010.  A Grafton Lake female banded in 2010 is now part of a nesting pair on Peskawa Lake approximately 15 km away. A Peskowesk female banded in 2010 was observed with a juvenile near Peter's Point on Kejimkujik Lake approximately    9 km away. The third, a female banded in 2010 on Big Dam Lake was observed in Jeremys Bay also on Kejimkujik Lake approximately 5 km away.

In 2014, it was noted that the banded female on Donnellan Lake and banded male on Mary Lake did not return.  The male on Donnellan has paired up with a loon without bands and the pair that was observed on Mary Lake has been banded.

There were 19 adults out of 20 confirmed observations. One loon, a former juvenile with one silver band on the left leg was observed on North Cranberry Lake.  Four of the banded adults were from 2009, ten from 2010 and five from 2012.

Only 26 out of the 35 study lakes were surveyed this year for productivity. There were 15 territories on 13 lakes with evidence of breeding;  16 nests were located.  Six nesting sites successfully hatched chicks of which four survived. Five nests were suspected to have been flooded, two of which had been second attempts.  Two nests addled by stranding, and 7 nests suspected to have been predated.  Because this work again in 2014 focused on resighting banded birds, some chicks and nests likely went undetected.
2013 Results
Researchers observed banded loons on 13 of the 17 lakes surveyed.

A total of 24 banded loons were observed; 14 individuals with confirmed identites (all four bands observed indicating a unique colour combination) and ten partially confirmed individuals (did not observe all four bands, but identified as part of a unique colour combination.) Forty-one percent of all loons that were banded in the Kejimkujik area since 1995 were sighted during the surveys (n=58).

There was high site fidelity. All but one loon was observed on the lake where it was origionally banded, and that individual was observed on a lake adjoining the lake where it was origionally banded.

Most observations (eight out of fourteen) were from adult birds banded in 2010, three were from 2012, two from 2009 and one from 1995. One burd, banded as a juvenille on Big Dam Lake in 2010, was observed on the same lake in 2013 as part of a breeding pair.

Only 29 of the 35 study lakes were surveyed this year for productivity. There were 13 territories on 12 lakes with evidence of breeding; 11 nests and five small chicks were observed. From the territories with evidence of breeding, four nests successfully hatched chicks, five nests were suspected to have been flodded and one nest had eggs that were suspected to have been predated. Because this worl is focused on resighting banded birds, some chicks and nests went likely undetected.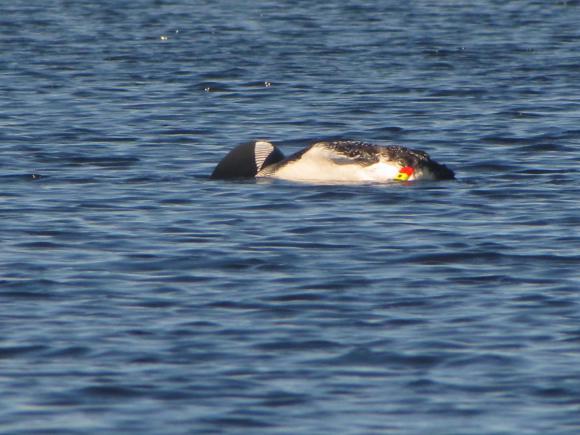 Photo Credit:  Colin Gray
Years of Data
Ongoing project since 2007
Partners
Environment Canada

Parks Canada

Mersey Tobeatic Research Institute

Nova Scotia Economic Development

TD Friends of the Environment Foundation