If it weren't for the dedicated people associated withi MTRI, including its staff, volunteers, and researchers, this organization would not have grown to what it is today. Want to learn how to join the team, get updates from the research institute, and become more involved in general? Sign up to become a member, watch for job postings on our news page and social media, contact us, or check out our "How You Can Help" page for volunteer opportunities.
Biographies
Nicole Hubley
Butterfly Project Coordinator
Nicole Hubley graduated from Acadia University in 2008. She began working for MTRI in September of 2017 and has since become the Butterfly Project Coordinator. She engages Nova Scotian youth in environmental education, giving many presentations and seminars throughout the province, both in schools and other events. Monarch butterflies are amazing, and Nicole encourages everyone to plant swamp milkweed as it is the only food source for Monarch caterpillars and important habitat to sustain, thus they too can enjoy the beauty of Monarchs. Nicole lives in Pleasant River with her husband and son, and you will most often find her in the garden, walking, or taking photos of both wildlife and her family.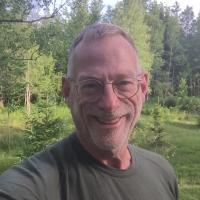 Tom Neily
Botanist and Lichenologist
Tom Neily has been surveying the forests and wetlands of Nova Scotia for the Boreal Felt Lichen and other rare cyanolichens for over fifteen years. He is happiest when in the field especially in good habitat which is becoming noticeably more difficult to find. Not content with that challenge he is actively collecting and maintaining a bryophyte collection which currently consists of over four thousand specimens from the maritimes and has found several species previously not recorded for the area. Tom also has an interest in vascular plants, fungi and all species at risk.When not in the woods Tom enjoys adding to the diversity around his home on the north mountain in the Annapolis Valley specializing in not-so-common trees and shrubs.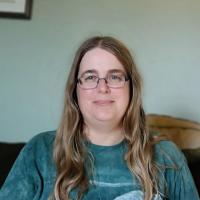 Jeffie McNeil
Co-Director / Species at Risk Biologist
Jeffie McNeil has been working with Blanding's turtles since 1995 when she did her honor's thesis at Acadia University, followed by her MSc thesis. Upon graduation she continued working with Blanding's turtles and other reptiles as recovery coordinator. She is a co-chair of the Reptile and Amphibian Recovery Team and manages the species at risk resource site. She appreciates the privledge of getting to know these long-lived turtles and working with amazing volunteers, staff and students along the way. She enjoys meandering through  wetlands with her sniffer dog, Boomer, and spending time with her husband and son at the family cabin.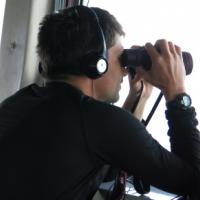 Brad Toms
Wildlife Biologist
Brad Toms started working as a Wildlife Biologist for MTRI in 2009. Previous to that he studied seabirds and other bird species at risk for Canadian Wildlife Service, Massasauga Rattlesnakes for Parks Canada and Black Bears for the Ontario MNRF. Brad's projects almost always focus on recovering species at risk in Nova Scotia through collaborative studies and stewardship. In his spare time he enjoys staring at the ocean looking for pelagic seabirds, orienteering and spending time at Shingle Lake.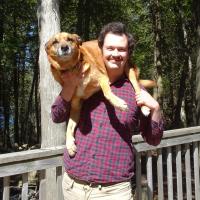 Thomas Sweeney
Aquatic Health Intern
Thomas graduated in January 2020 with a Masters in Resource and Environmental Management from Dalhousie University and focused much of his work there on fisheries and aquatic ecosystem management.  He had previously graduated from Quest University in British Colombia with a BaSc. and focused his time there on Marine Biology.  At MTRI Thomas is primarily working with aquatic conservation projects, but is always eager to work in the field in whatever projects are ongoing.  When he's not at work he loves spending time in the outdoors fishing, camping and SCUBA diving.  He is accompanied in his profile picture by his dog Roxy.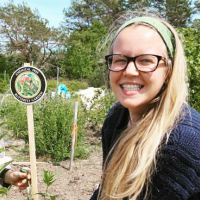 Emma Beaton
Summer Research Assistant
Emma rejoined MTRI this summer as a research assistant working on the Monarch Butterfly Project and coordinating the Summer Webinar series! She graduated from Dalhousie University in 2017 with her BSc in Biology. She is passionate about finding innovative ways to make the natural world fun and engaging for all ages, and is currently pursuing her BEd in secondary science at MSVU. When not at her desk, you can find her hiking, working on her reading list, or experimenting with new recipes in the kitchen.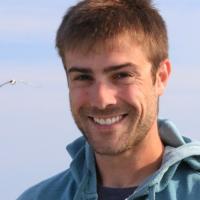 Nick Knutson
Volunteer Engagement Coordinator
An Acadian from Clare, Nick is currently finishing his M.Sc at Acadia University while working at MTRI as the Volunteer Coordinator. He's passionate about the impact the public can have on conservation activities in Nova Scotia and he's recently worked with the Kespukwitk Conservation Collaborative (KCC) on developing a Volunteer Engagement Strategy for Kespukwitk, one of the seven traditional districts of Mi'kma'ki. In 2016, Nick graduated from Université d'Ottawa with a law degree and he is still very interested in environmental legislation and policy.
Chad Simmons
Summer Research Assistant
Chad is joining the MTRI team as the newest field research assistant. This summer he will be working with Colin Gray on the old forest project surveying red oak, white pine and red maple stands. He will also be helping with loon surveys, hopefully spotting previously banded birds and their nests. He is currently on a short reprieve from his MSc at Dalhousie University, where he is studying the habitat of rare forest plants in Nova Scotia's Acadian Forest. His project is identifying the environmental conditions, successional stage and community structure of downy rattlesnake plantain, cancer root and round-lobed hepatica.