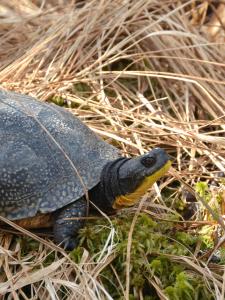 Blanding's turtles have a high-domed, helmet shaped and sized shell that is dark grey when dry and black with yellowish flecks when wet. They are listed as Endangered in Nova Scotia under both the federal Species at Risk Act and the Nova Scotia Endangered Species Act. There are only 4 known populations in the provice, totalling less than 500 known adults. MTRI works closely with the Reptile and Amphibian Recovery Team, partners and volunteers to conduct reseach and undertake recovery actions to help this species at risk. Our ongoing projects employ researchers and volunteers to protect nests from predators, monitor known populations, learn more about newly discovered areas and follow up on public sighting reports to find new locations of Blanding's turtles. 
How you can help:
Volunteer:  If you are interested in assisting with Blanding's turtle nest protection, hatchling emergence, population suverys or radio-tracking turtles, contact us at 902-682-2371 or email info@merseytobeatic.ca.   
Report Sightings:  If you see a Blanding's turtle, call the species at risk reporting line at 1-866-727-3447 (don't forget to leave your name and contact information), or report your sighting online at www.speciesatrisk.ca/sightings.
Become a Steward:  Stewardship is protecting and being responsible for something. Learn how to maintain or recover healthy ecosystems and habitats for species at risk, and get involved with recovery actions.  Learn more in our Healthy Lakes and Wetlands for Tomorrow: A Landowner Stewardship Guide for Species at Risk in Nova Scotia. 
Be alert: Watch for turtles on roads, especially during nesting season which typically occurs from late May to early July.
Do not collect or re-locate turtles:  Leave a turtle undisturbed. If you do need to move a turtle off the road, place it in the direction it was heading.